Kepemimpinan Islami dan Etika Kerja Islami: Pengaruhnya terhadap Kinerja Karyawan
Abstract
Kesuksesan sebuah perusahaan atau organisasi ditentukan oleh kemampuan pemimpin dalam membimbing dan menginspirasi bawahan untuk bersedia berkontribusi terhadap tujuan organisasi. Tidak hanya itu, etika kerja juga menjadi pendorong kinerja organisasi. Dari banyak studi yang membahas kepemimpinan dan etika kerja, masih terdapat banyak celah jika dikaitkan dengan perbedaan konteks penelitian dan perbedaan agama. Tujuan penelitian ini adalah untuk berkontribusi pada pengembangan konsep kepemimpinan islami dengan berdasarkan konteks penelitian pada lingkup industr halal. Penelitian menguji pengaruh secara langsung kepemimpinan islami (KI) dan etika kerja islami (EKI) terhadap kinerja karyawan (KK). Objek penelitian ini adalah karyawan yang bekerja pada perusahaan yang tergolong dalam cakupan industri halal di Kota Malang. Penelitian menggunakan seting penelitian lapangan (Field Setting) dan desain studi cross-sectional. Peneliti mengambil responden penelitian sebanyak 175 karyawan dari 10 perusahaan yang tergolong perusahaan halal di Kota Malang. Teknik regresi digunakan peneliti untuk menguji hipotesis yang disusun dalam penelitian ini. Hasil penelitian mendukung hipotesis kepemimpinan islami dan etika kerja islami berpengaruh positif terhadap kinerja karyawan.
Keywords
Kepemimpinan islami, Etika kerja islami dan Kinerja karyawan
References
Ali, A. & Al-Owaihan, A. (2008). Islamic work ethic: a critical review. Cross cultural management: An international Journal, 15: 5-19.
Ali, A. J. (2009). Islamic perspectives on leadership: A model. International Journal of Islamic and Middle Eastern Finance and Management, 2(2), 160-180
Aliyu, A.A., Bello, M.U., Kasim, R., dan Martin, D. (2014). Positivist and Non-Positivist Paradigm in Social Science Research: Conflicting Paradigms or Perfect Partner? Journal of Management Sustainability, 4(4), 79.
Ather, S. M., & Sobhani, F. A. (2007). Managerial leadership: An Islamic perspective. IIUC Studies, 4, 7-24.
Beekun, R., & Badawi, J. (1999). The leadership process in Islam. Beltsville, MD: Amana Publications.
Chowdbury, N. (2002). Leadership strategies and global unity for the 21st century: An Islamic perspective. Paper presented at the IGS-ICOJ International Conference on leadership and unity in Islam, Kobe, Japan.
Cooper, D.R., dan Schindler, P.S. (2014). Business Research Method, 12ed. New York: Mcgraw-Hill.
Daud, W. N. W., Rahim, A. M., & Nasurdin, M. A. (2014). Quality of Islamic Leadership and Organizational Performance within the Takaful Industry in Malaysia: A Conceptual Study. Asian Social Science, 10(21) 135-144.
Delaney, J. T., & Huselid, M. A. (1996). The impact of human resource management practices on perceptions of organizational performance. The Academy of Management Journal, 39(4), 949-969.
Gulati, R., & Sytch, M. (2008). Does familiarity breed trust? Revisiting the antecedents of trust. Managerial and Decision Economics, 29, 165-190.
Hadisi, M. (2014). The Effect of Islamic Work Ethics on the Performance of Muslim Employees of Marketing Sector in Multinational Companies. International Journal of Organizational Leadership, 3: 31-40.
Hair, J.F., Hult, G.T.M., Ringle, C.M., dan Sarstedt, M. (2014). A Primer on Partial Least Squaares Structural Equation Modelling (PLS-SEM). Thousand Oaks, CA: Sage.
Hakim, A. (2012). The implementation of Islamic leadership and Islamic organizational culture and its influence on Islamic working motivation and Islamic performance PT Bank Mu'amalat Indonesia Tbk. Employee in the Central Java. Asia Pacific Management Review, 17(1), 77-90.
Hashim, A. J., & Khairuddin, M. H. (2012). Exploring the leadership styles among Takaful agency leaders. Paper presented at the Proceeding: International Conference on Islamic Leadership-2 (ICIL), Kuala Lumpur, Malaysia.
Majali, A. S. (1990). A proposal for the establishment of an Islamic leadership institution. Journal Islamic Academic Science, 3(4), 251-254.
Majeed, Y., Khalid, Z., & Khan, M. A. (2011). The impact of Islamic leadership on organizational Objectives. Far East Journal of Marketing and Management, 1(1), 54-65.
Moayedi, N. N. (2009). Islamic Work Ethic and Muslim Religious Beliefs Impact on Organizational Commitment in the Workplace. UMI Dissertation Publishing, United State.
Possumah, B., Ismail, A. &Shahimi, S. (2013). Bringing work back in Islamic ethics. Journal of Business Ethics, 112: 257–270.
Ricardo, R., & Wade, D. (2001). Corporate performance management: How to build a better organization through measurement driven strategies alignment. New York: Taylor & Francis.
Riva'i, Veithzal. (2012). Islamic business and economic ethic. Jakarta. Bumi Aksara.
Rizk, R. R. (2008). Back to basics: An Islamic perspective on business and work ethics. Social Responsibility Journal, 1(2), 246–254.
Rizki, F., Armanu, T., Surachman & Rofiaty (2017). Study on the Relationship between Islamic Leadership Style, Work Ethics, Job Satisfaction, and Employee Performance. RJOAS, 1(61): 238-248.
Safi, L. (1995). Leadership and subordination: An Islamic perspective. The American Journal of Islamic Social Sciences, 12(2), 204-223.
Sekaran, U., (2003), Research Methods for Business, A Skill Building approach, Fourth Edition, John Wiley & Sons, inc.
Simamora, H. (2015). Manajemen sumber daya manusia. Yogyakarta. STIE YKPN.
Sugiyono (2012). Statistika untuk Penelitian. Bandung: Alfabeta.
Yousef, D. (2001). Islamic work ethic: A moderator between organizational commitment and job satisfaction in a crosscultural context. Personnel Review, 30: 152-169.
DOI:
http://dx.doi.org/10.31332/lifalah.v5i1.1923
Copyright (c) 2020 Ikhsan Maksum
This work is licensed under a
Creative Commons Attribution-ShareAlike 4.0 International License
.
Li Falah : Jurnal Studi Ekonomi dan Bisnis Islam, Indexed In
Accredited By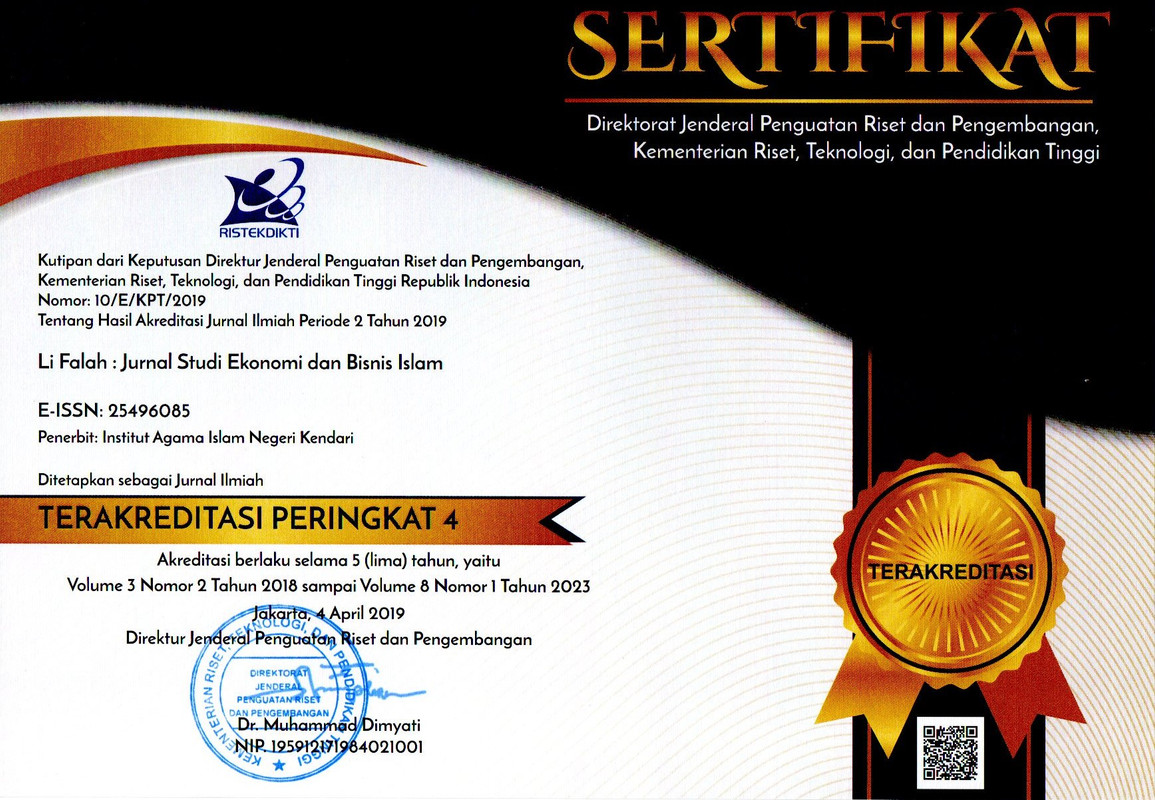 View My Stats
Organized by : Fakultas Ekonomi dan Bisnis Islam
Published by : Institut Agama Islam Negeri Kendari
Jl. Sultan Qaimuddin No. 17 Baruga Kota Kendari Provinsi Sulawesi Tenggara
phone. +62401-3193710
Fax. +62401-3193710
Email: lifalah.iainkdi@gmail.com