The Mediating Effects of IEAP on the Relationship Between General Cognitive Ability of Imamship and Masjid Performance in Lagos State, Nigeria
Abstract
The purpose of this study is to examine the mediating effects of IEAP (Islamic ethical administrative practices) on the relationship between general cognitive ability (GCA) of Imamship and Masjid (mosque) Performance (MP) in Lagos State, Nigeria. This study utilized a quantitative approach. It employs a cross-sectional survey and administers 310 online questionnaires to the Chief Imams of central Masaajid (plural of a mosque/mosques) in Lagos State, Nigeria. The study used statistical techniques to analyze the collected data with partial least square structural - equation modelling - version 3 (PLS-SEM-V3). In the Lagos State of Nigeria, people have criticized the effectiveness of imams in theState. The critiques were raised based on the reason that the participation of Muslim Ummah in activities organized by imams is low. Ineffectiveness of imams this study aims to formulate the mediating effect of IEAP that will serve as the best administrative policy that can lead to a better management system in the Masjid to improve Masjid attendance and serve as an attraction for Muslims Ummah to come to the Masjid. The results of data on MP equally demonstrate that the Jama'ah would emulate their Chief Imams and consequently increase the performance of the Masaajid. This study recommends that with the presence of IEAP, the effectiveness of Chief Imam in promoting efficiency in MP by imbibing the knowledge/wisdom, truthfulness, responsibility/trust, and deliverance of Khutbah will increase. Finally, key benefits for practitioners and academia were discussed under the theoretical and practical contributions, while necessary suggestions for future study were recommended.
Keywords
IEAP, General Cognitive Ability of Imamship, Masjid Performance, Lagos State, Nigeria
References
Al-Qur'an, al-Kareem. "The Holy Book of Allah and Islamic Religious Information" revealed to the Prophet Muhammad (SAW), through Malak Jibriel Modern English Translation and Transliteration by Muhammad. Dr. Muhammad Taqi-ud-Din Al Hilali & Dr. Muhammad Khan. (Published by Darussalam, Saudi Arabia).
Abbas, F. (2016). 'Mosque Leadership and Management'. The Nation Newspaper, November 25, 2016, Available at http://thenationonlineng.net/Mosque-leadership-management/ Accesed: April 20, 2019.
AbdulKareem, I. A., Ogunbado, A. F., AbdulGaniyy, A., & bin Mahmud, M. S. (2019). Factors Motivating the Establishment of Waqf Institution towards Poverty Alleviation among Muslim Ummah in Oyo State, South West, Nigeria. Jurnal Manajemen Bisnis (JMB), 32(1), 41-59.
Abdullateef, Raji, Muhammed A. Yinusa, M. Danjuma Momoh, L. Sulaiman, Joseph Oluyemi, and Abdulwasiu A. Raji. "The Reality of Mountain Prayers in Nigeria: A Sociological Analysis among Some Worshipers in Ilorin, Kwara State, Nigeria." Ori-Oke Spirituality and Social Change in Africa: Contemporary Perspectives (2018): 369.
Adelani, S. M. (2015). The contributions of Ibadan scholars to Islamic Jurisprudence in Yorubaland. Faculty of Arts Department of Religious Studies National Open University of Nigeria University Village, Nnamdi Azikiwe Expressway, Plot 91, Cadastral Zone, Jabi, Abuja.
Akgün, A. E. (2020). Team wisdom in software development projects and its impact on project performance. International Journal of Information Management, 50, 228-243.
Alade, T. E. A., Hussain, M., Nasri, M., & Aziz, A. B. (2016). Islamic leadership principles on mosque performance in Lagos state, Nigeria. International Journal of Islamic Business (IJIB), 1(2), 1-19.
Aldulaimi, S. H. (2016). Fundamental Islamic perspective of work ethics. Journal of Islamic Accounting and Business Research.
Ahmad, S. F. (2012). Ethical Basis of Organizational Leadership: An Islamic Perspective. In Ahmad, K., Islam, R., & Ismail, Y. (Eds), ISSUES IN ISLAMIC MANAGEMENT: THEORIES AND PRACTICES. (p27). IIUM Press.
Alimin, N. S. N. B., Awang, S. R. B., Ahmad, T., & Nain, S. M. (2018). Trustworthiness: The Core of Leadership in Islam. In SHS Web of Conferences (Vol. 56, p. 03002). EDP Sciences.
Amuda, Y. J. (2013). Empowerment of Nigerian Muslim households through waqf, zakat, sadaqat and public funding. International Journal of Trade, Economics and Finance, 4(6), 419.
Arshad, R., & Zain, N. M. (2017). Performance Measurement and Accountability of WAQF Institutions in Malaysia. In SHS Web of Conferences (Vol. 36, p. 00005). EDP Sciences.
Arshad, R., Zain, N. M., Urus, S. T., & Chakir, A. (2018). Modelling Maqasid Waqf performance measures in Waqf institutions. Global Journal Al-Thaqafah, 8(1), 157-170.
Attahiru, M. S., Al-Aidaros, A. H., & Md Yusof, S. (2016). Moderating role of hisbah Institution on the relationship of Religiosity and Islamic culture to Islamic work ethics in Nigeria. International Review of Management and Marketing, 6(S8), 125-132.
Badi, J. A. (2017). Efficient Leadership: A Systemic Model of Prophetic Thinking (Kepimpinan yang Berkesan: Model Sistemik dari Pemikir). Journal of Islam in Asia (E-ISSN: 2289-8077), 14(3), 249-270.
Bedell-Avers, K. E., Hunter, S. T., & Mumford, M. D. (2008). Conditions of problem-solving and the performance of charismatic, ideological, and pragmatic leaders: A comparative experimental study. The Leadership Quarterly, 19(1), 89-106.
Bensaid, B., Machouche, S. B. T., & Grine, F. (2014). A Qur'anic framework for spiritual intelligence. Religions, 5(1), 179-198.
Chan, K. Y., & Drasgow, F. (2001). Toward a theory of individual differences and leadership: understanding the motivation to lead. Journal of applied psychology, 86(3), 481.
Colom, R., Karama, S., Jung, R. E., & Haier, R. J. (2010). Human intelligence and brain networks. Dialogues in clinical neuroscience, 12(4), 489.
Creswell, J. W. (2002). Educational research: Planning, conducting, and evaluating quantitative (pp. 146-166). Upper Saddle River, NJ: Prentice Hall.
Daud, W. N. W., Rahim, M. A., & Nasurdin, A. M. (2014). Quality of Islamic Leadership and Organizational Performance within the Takaful Industry in Malaysia: A Conceptual Study. Asian Social Science, 10(21), 135.
Ebrahimi, M., Yusoff, K., & Salamon, H. B. (2015). Teaching Moral Values Through the Film," Children of Heaven": A Review and Qualitative Analysis of Islam as a Way of Life. Mediterranean Journal of Social Sciences, 6(2 S1), 331.
Eniafe, A. A. T., Azmin, A. A., Wan, C., Abdullah, S., Nasri, M., Hussain, M., ... & Owoyemi, M. Y. (2020). The Effect of Islamic ethical al Administrative Practices of Imamship on Masjid Performance Among Muslim Community in Lagos State, Nigeria. International Journal of Business and Technopreneurship Volume 10, No 2, June 2020[279-298].
Haider, A., & Nadeem, S. (2014). The relationship between emotional intelligence (EI) and organizational citizenship behaviour (OCB): The moderating role of Islamic work ethics (IWE). ASEAN Journal of Psychiatry, 16(1), 95-105.
Hair Jr, J. F., Hult, G. T. M., Ringle, C. M., & Sarstedt, M. (2014). A primer on partial least squares structural equation modeling (PLS-SEM). Los Angeles. Sage
Hair, J. F., Hult, G. T. M., Ringle, C. M., Sarstedt, M., & Thiele, K. O. (2017). Mirror, mirror on the wall: a comparative evaluation of composite-based structural equation modeling methods. Journal of the Academy of Marketing Science, 45(5), 616-632.
Hair Jr, J. F., Hult, G. T. M., Ringle, C., & Sarstedt, M. (2016). A primer on partial least squares structural equation modeling (PLS-SEM). Sage publications.
Jaafar, A., Habidin, N. F., Hussin, M. Y. M., Zakaria, Z., & Hamid, A. A. (2013). A proposed model for strategic management (SM) and mosque performance (MP) in mosque management. International Journal of Management, Information Technology and Engineering, 1(3), 29-36.
Kadhim, A. S., Ahmad, S. B., Owoyemi, M. Y., & Ahmad, M. (2017). Islamic ethical s: The attributes of Al-Ihsan in the Quran and its effects on muslim morality. International Journal of Business and Social Science, 8(11), 2219-1933.
Kamri, N. A., Ramlan, S., & Ibrahim, A. (2014). Qur'anic Work Ethics. Journal of Usuluddin, 40, 135-172.
Kareem, M. K., & Adetoro, Y. A. (2017). Operation of the Bayt Al-Mal in Saki: Implications for Poverty Alleviation in Nigeria. Islam and Civilisational Renewal (ICR), 8(2), 190-213.
Kitause, R. H., & Achunike, H. C. (2013). Religion in Nigeria from 1900-2013. Religion, 3(18), 45-57.
Mahazan, A. M., & Abdullah, A. G. (2013). A Model of Imam's Leadership and Mosque Performance in Malaysia. Global Journal Al-Thaqafah, 3(2), 53-64.
Mahmood, A., Arshad, M. A., Ahmed, A., Akhtar, S., & Khan, S. (2018). Spiritual intelligence research within human resource development: a thematic review. Management Research Review.
Miller, E. M. (2019). Promoting Student Success in Statistics Courses by Tapping Diverse Cognitive Abilities. Teaching of Psychology, 46(2), 140-145.
Muhamedi, M., & Ariffin, M. Y. M. (2017). Management Communication Practices in Islamic Perspective. JOURNAL OF CREATIVE WRITING| ISSN 2410-6259, 3(1), 48-65.
Mukred Mohsen, N. R. (2007). Leadership from The Qur'an Relationship Between Taqwa, Trust and Business Leadership Effectiveness (Doctoral dissertation, Universiti Sains Malaysia).
Mumford, T. V., Campion, M. A., & Morgeson, F. P. (2007). The leadership skills strataplex: Leadership skills requirements accross organizational levels. The Leadership Quarterly, 18: 154-166.
Mutalib, M. A., & Ghani, A. H. A. (2013). Leadership traits, leadership behavior, and job autonomy of imams in peninsular Malaysia: A moderated mediation analysis. International Journal of Business and Society, 14(1), 17.
Mutalib, M. A., Hashim, M., Ahmad, N. M., Zakaria, Z., Rahman, A. A., & Ghani, A. A. (2017). LEADERSHIP AND MOSQUE PERFORMANCE IN RURAL AND URBAN AREAS OF PENINSULAR MALAYSIA. International Journal of Arts & Sciences, 9(4), 451-472.
Nachmias, C.F and D. Nachmias. 1996. Research method in social science. Published by Edward Arnold, A division of Hooder and Stoughtous, London.
Noor, S. M., Ab Wahab, S. A., & Nasirun, N. (2017). Islamic Work Ethics, Performance Management and Gender Difference Among Muslim Employees. Jurnal Intelek, 12(1).
Omer, H. F. & Farhadullah,. (2019). INSTITUTION OF MASJID AND ITS ROLE IN SOCIAL CHANGE: CHALLENGES AND PROSPECTS. Jurnal Penyelidikan Islam dan Kontemporari (JOIRC), 2(4), 1-12.
Omer, S. (2018). The Form and Function of the Prophet's Mosque during the Time of the Prophet (PBUH).
Oniyide, D. A. (2019). Qur'anic Scholarships in Post-Colonial Lagos: A Study of Contributions of Shaykh Adam 'Abdullah al-Ilory (1917-1992). IJLLT, 2(7), 134-144.
Oskooii, K. A., & Dana, K. (2018). Muslims in Great Britain: the impact of mosque attendance on political behaviour and civic engagement. Journal of Ethnic and Migration Studies, 44(9), 1479–1505.
Owolabi, B. S., Odugbemi, T. O., Odeyemi, K. A., & Onigbogi, O. O. (2018). mHealth: knowledge and use among doctors and nurses in public secondary health-care facilities of Lagos, Nigeria. Journal of Clinical Sciences, 15(1), 27.
Prawirasasra, M. S., & Mubarok, S. (2017, June). Evaluation of acoustical comfort in mosque. In IOP Conference Series: Materials Science and Engineering (Vol. 211, No. 1, p. 012021). IOP Publishing.
Rahi, S. (2017). Research design and methods: A systematic review of research paradigms, sampling issues and instruments development. International Journal of Economics & Management Sciences, 6(2), 1-5.
Rahman, M. F., Mastuki, N., & Syed Yusof, S. (2015). Performance Measurement Model of Mosque. In International Accounting and Business Conference (Vol. 31, pp. 26-35).
Rahman, Z. A., & Shah, I. M. (2015). Measuring Islamic spiritual intelligence. Procedia Economics and Finance, 31, 134-139.
Raifu, I. O. (2016). Intrigues and Twist in the Imamate Crisis of Lagos Central Mosque (Jama'atul Muslimeen Council), 1841 to 1947. AFRREV IJAH: An International Journal of Arts and Humanities, 5(4), 36-48.
Randeree, K. (2011). Leadership lessons from early Islamic literature. Issues in Islamic Management, 228-251.
Rana, M. H., & Malik, M. S. (2017). Impact of human resource (HR) practices on organizational performance: Moderating role of Islamic principles. International Journal of Islamic and Middle Eastern Finance and Management, 10(2), 186-207.
Remillard, M. L., Mazor, K. M., Cutrona, S. L., Gurwitz, J. H., & Tjia, J. (2014). Systematic review of the use of online questionnaires of older adults. Journal of the American Geriatrics Society, 62(4), 696-705.
Richiardi, L., Bellocco, R., & Zugna, D. (2013). Mediation analysis in epidemiology: methods, interpretation and bias. International journal of epidemiology, 42(5), 1511-1519.
Riwajanti, N. I. (2019). Mosque-based islamic cooperative for community economic development. Review of Integrative Business and Economics Research, 8, 196.
Said, J. (2020, February). Development of Urban Architecture the Time of the Prophet Muhammad PBUH in Madinah Period. In EduARCHsia & Senvar 2019 International Conference (EduARCHsia 2019) (pp. 124-132). Atlantis Press.
Sallehhuddin, A., Abu Said, Al., Hasmanto, N., Mustafa, M., Jais, M., Samsudin, A., Masuod, M., & Ismail, H. (2017), Crafting Preliminary Model for Mosque Cooperatives' Antecedents of Performance, Published by Canadian Centre of Science and Education. Asian Social Science, 13(2), 116-125.
Singh, D. (2020). HYPOTHESIS: MEANING, TYPES AND FORMULATION.
Soldo, A. (2017). Examining the Relationship between Leadership Style and Leadership Effectiveness among Imams in US Mosques (Doctoral dissertation, Colorado Technical University).
Sudman, S. (1996). How To Conduct Your Own Survey. JMR, Journal of Marketing Research, 33(1), 118.
Tabachnick, B. G., & Fidell, L. S. (2013). Using multivariate statistics (5th ed.). Boston, MA: Allyn & Bacon/Pearson Education.
Utaberta, N., Asif, N., Rasdi, M. T. M., Yunos, M. Y. M., Ismail, N. A., & Ismail, S. (2015). The Concept of Mosque Based on Islamic Philosophy: A Review Based on Early Islamic Texts and Practices of the Early Generation of the Muslims. Advances in Environmental Biology, 9(5), 371-375.
Wahab, M. A. (2017). INVESTIGATING THE NEXUS BETWEEN PERSONALITY TRAITS AND ISLAMIC WORK ETHICS. Asian Academy of Management Journal, 22(1).
Westfall, A. (2019). Mosque involvement and political engagement in the United States. Politics and Religion, 12(4), 678-709.
YAKUBU, D. A. [2019]. THE MOSQUE ADMINISTRATORS'ROLES ON SECURITY PRECAUTION OF MOSQUES: STRATEGIES FOR ENHANCEMENT.
Yusuf, T., & Raheem, L. A. (2013). The Masjid (Mosque) Basics & Management. Nigeria: Salsabil Publishers. https://www.researchgate.net/publication/299600482_THE_MOSQUE_
Zakariyah, L. (2014, November). Jurisprudential Analysis of Maqasid Al-Shariah in Managing Mosques' Funds: A Case Study of Tabung Mosque (TM) in Malaysia. In first International Conference on Islamic Finance: Innovation Instruments– Issues of Implementation and Future Challenges: November (pp. 05-06).
Zhang, X., Kuchinke, L., Woud, M. L., Velten, J., & Margraf, J. (2017). Survey method matters: Online/offline questionnaires and face-to-face or telephone interviews differ. Computers in Human Behaviour, 71, 172-180.
DOI:
http://dx.doi.org/10.31332/lifalah.v6i1.2915
Copyright (c) 2021 Abdulhadi Alade Tihamiyu Eniafe, Adi Anuar bin Azmin, Shuhairimi Bin Abdullah
This work is licensed under a
Creative Commons Attribution-ShareAlike 4.0 International License
.
Li Falah : Jurnal Studi Ekonomi dan Bisnis Islam, Indexed In
Accredited By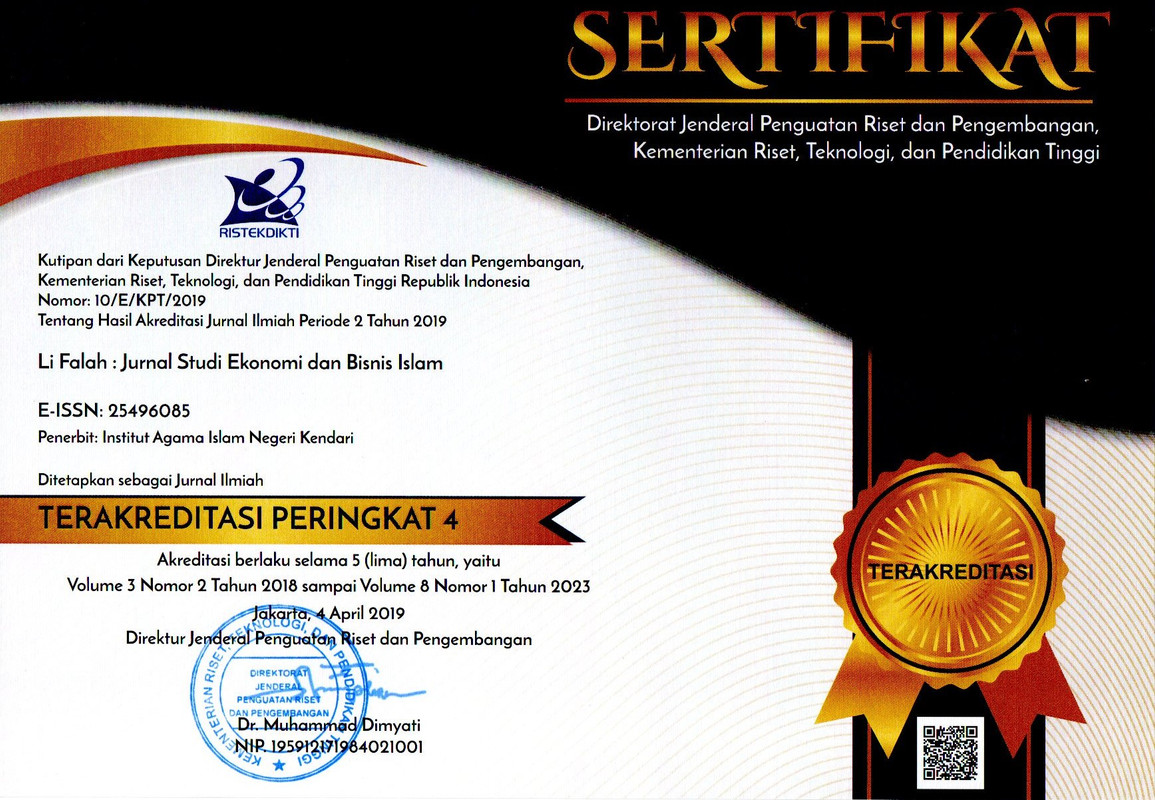 View My Stats
Organized by : Fakultas Ekonomi dan Bisnis Islam
Published by : Institut Agama Islam Negeri Kendari
Jl. Sultan Qaimuddin No. 17 Baruga Kota Kendari Provinsi Sulawesi Tenggara
phone. +62401-3193710
Fax. +62401-3193710
Email: lifalah.iainkdi@gmail.com