STRATEGI PENGHIMPUNAN DANA SOSIAL UMMAT PADA LEMBAGA-LEMBAGA FILLANTROFI DI INDONESIA (Studi Kasus Dompet Peduli Ummat Daarut Tauhid, Dompet Dhuafa Republika, BAZNAS, dan BAZIS DKI Jakarta)
Abstract
Abstract
This study aimed to describe forms of fundrising conducted by institutions fillantrofi in
Indonesia. The study was conducted at four institutions namely DPU Daarut Tauhid,
Dompet Dhuafa Republika, BAZNAS, and BAZIS of DKI Jakarta. Source of data
obtained from interviews and documentation. Data was analyzed using qualitative
deskripstif. The results showed that the forms of fund raising undertaken, namely: Media
usedprint, electronic, internet, and media communication. In this case there are several
ways, namely: Media compaign, direct mail, telefundrinsing, direct fundrising,
cooperation program, special event, religious fund, zakat collectors forming units (UPZ),
CSR and CSR Cooperation Program, donation ritail humanitarian fund, through bank:
ATM (transfers, phone and internet banking), service zakat donations via SMS and online.
Keywords: Fundrising, humanitarian, cooperationand service donation.
DOI:
http://dx.doi.org/10.31332/lifalah.v1i1.472
Copyright (c) 2017 Li Falah Jurnal Studi Ekonomi dan Bisnis Islam
Li Falah : Jurnal Studi Ekonomi dan Bisnis Islam, Indexed In
Accredited By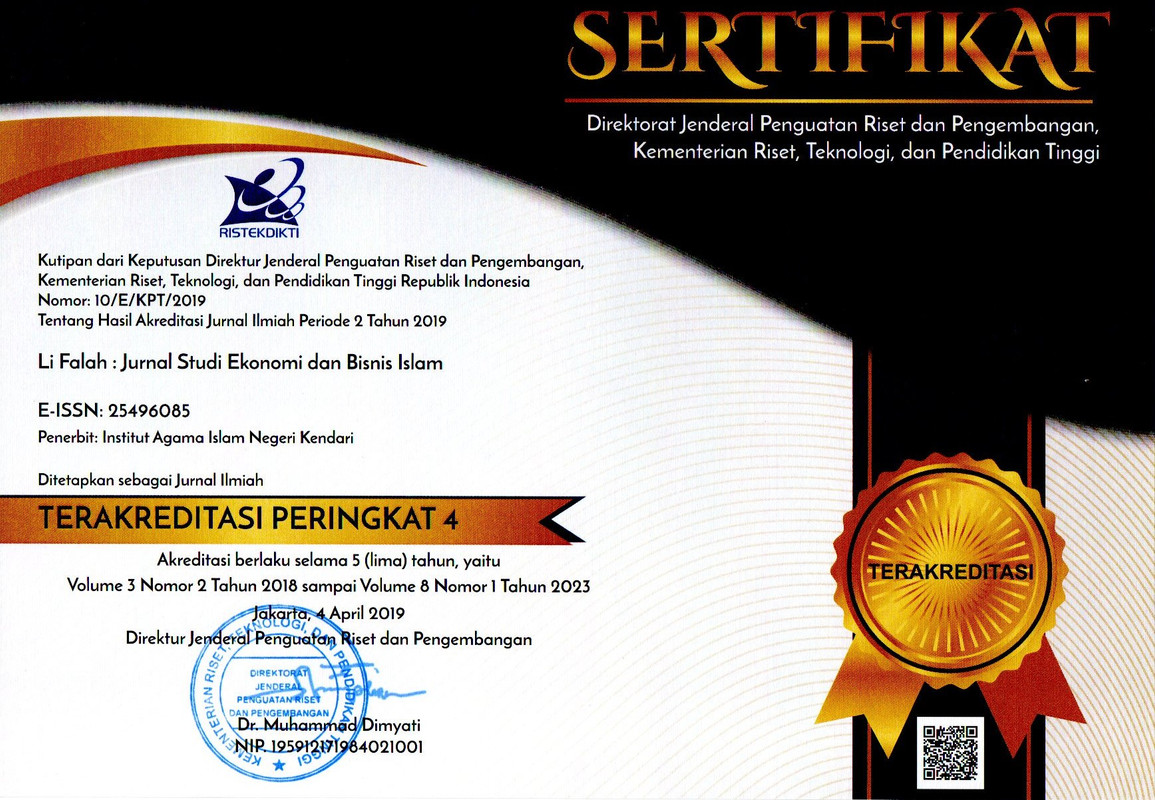 View My Stats
Organized by : Fakultas Ekonomi dan Bisnis Islam
Published by : Institut Agama Islam Negeri Kendari
Jl. Sultan Qaimuddin No. 17 Baruga Kota Kendari Provinsi Sulawesi Tenggara
phone. +62401-3193710
Fax. +62401-3193710
Email: lifalah.iainkdi@gmail.com