PANDANGAN IBN QUDAMAH TENTANG WAKAF DAN RELEVANSINYA DENGAN WAKAF DI INDONESIA
Abstract
Abtract
This research is based on a research library, which is based on the study of literature, this
research theme is taken is endowment in view of Ibn Qudamah and its relevance to the
development of waqf in Indonesia, in this paper, there are three important questions first,
how the concept of waqf in Ibn Qudamah view, and secondly how sosiohistoris biography of
Ibn Qudama? and thirdly how the relevance of the opinion of Ibn Qudama of endowments
with the development of waqf in Indonesia?, with the approach of content analysis and
historical for mencoa analyze endowments and life history of Ibn Qudama, the results of the
research paper is first, knowing the concept of waqf Ibn Qudamah, and the second knowing
Ibn Qudamah biography, and relevance of thought waqf Ibn Qudamah with developments in
Indonesia.
Keywords: Ibn Qudamah, waqf, and relevance.
DOI:
http://dx.doi.org/10.31332/lifalah.v1i1.474
Copyright (c) 2017 Li Falah Jurnal Studi Ekonomi dan Bisnis Islam
Li Falah : Jurnal Studi Ekonomi dan Bisnis Islam, Indexed In
Accredited By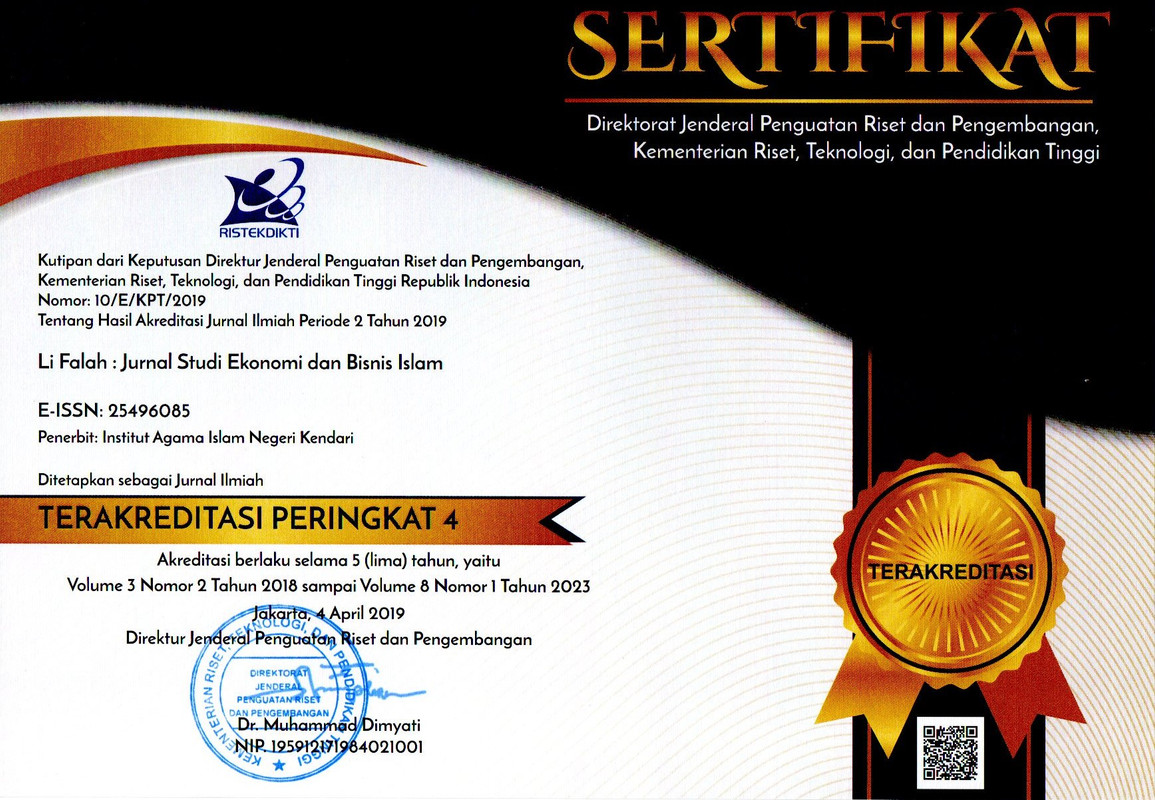 View My Stats
Organized by : Fakultas Ekonomi dan Bisnis Islam
Published by : Institut Agama Islam Negeri Kendari
Jl. Sultan Qaimuddin No. 17 Baruga Kota Kendari Provinsi Sulawesi Tenggara
phone. +62401-3193710
Fax. +62401-3193710
Email: lifalah.iainkdi@gmail.com