SUKUK : TEORI DAN IMPLEMENTASI
Abstract
Abstrak
Sukuk is one of the most innovative products in the development of contemporary Islamic
financial system. Sukuk growth of 84% per year when analyzed in the 2001 until 2007.
Discussion of sukuk increasingly attracted the attention of academics and professional
practitioners. Thus, the discussion paper will discuss in more depth theoretically about
sukuk and implementation. The discussion on the definition of sukuk in etymology and
terminology, history of the development of sukuk, Islamic legal basis of the sukuk, sukuk
investment types, the development potential of sukuk in Indonesia, mechanism of profit
sharing investment securities, as well as the difference between Sukuk and Bonds.
Keywords: Investments, sukuk, bonds, and Islamic finance.
DOI:
http://dx.doi.org/10.31332/lifalah.v1i1.476
Copyright (c) 2017 Li Falah Jurnal Studi Ekonomi dan Bisnis Islam
Li Falah : Jurnal Studi Ekonomi dan Bisnis Islam, Indexed In
Accredited By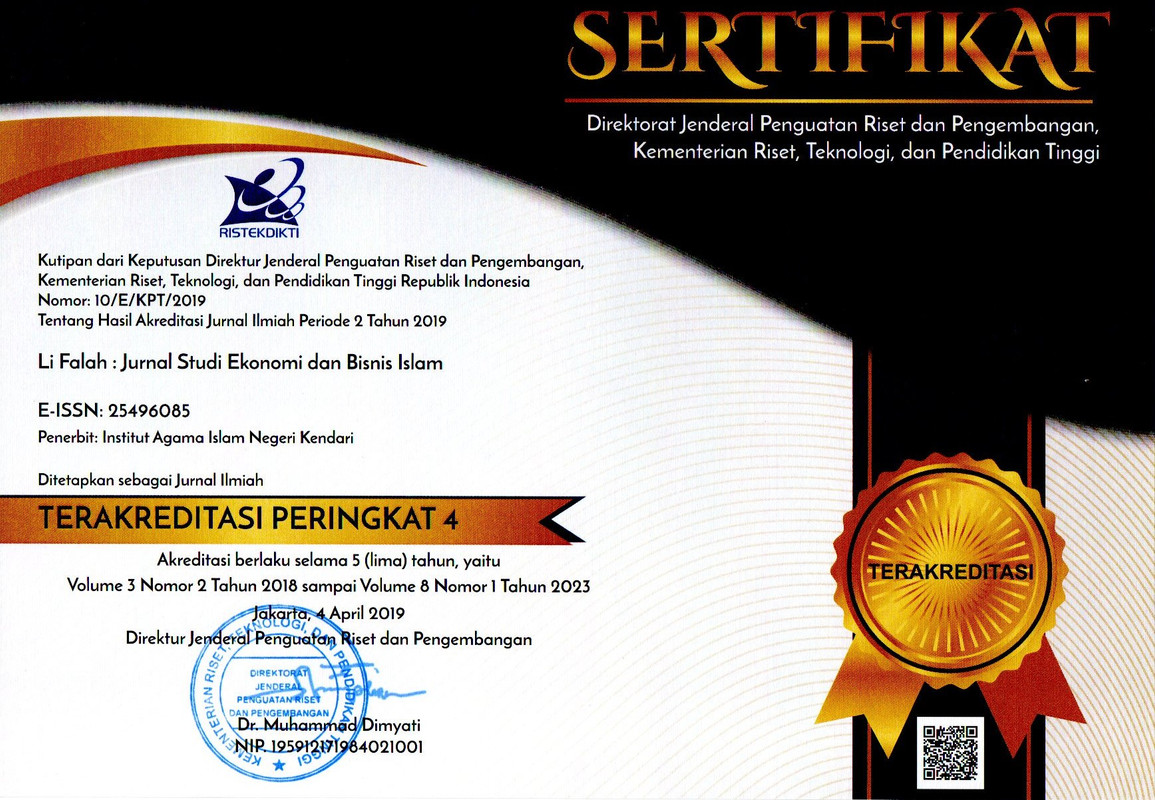 View My Stats
Organized by : Fakultas Ekonomi dan Bisnis Islam
Published by : Institut Agama Islam Negeri Kendari
Jl. Sultan Qaimuddin No. 17 Baruga Kota Kendari Provinsi Sulawesi Tenggara
phone. +62401-3193710
Fax. +62401-3193710
Email: lifalah.iainkdi@gmail.com