Sikap, Norma Subjektif, Religiusitas, dan Partisipasi Terhadap Wakaf Tunai
Abstract
Wakaf tunai memiliki peran penting dalam meningkatkan ekonomi sosial umat. Namun, literatur yang berkontribusi pada pemahaman psikologis sosial tentang faktor-faktor yang mendasari keputusan seseorang untuk berpartisipasi pada wakaf tunai belum berkembang seperti literatur instrumen amal lainnya. Oleh karena itu, penelitian ini bertujuan untuk menguji determinan dari niat waqif untuk berpartisipasi dalam memberikan wakaf tunai pada konteks masyarakat muslim di Indonesia. Penelitian ini menggunakan theory of planned behavior (TPB) sebagai landasan penelitian, seperangkat kuesioner dibangun untuk mengukur nilai waqif dalam berpartisipasi pada wakaf tunai. Penelitian ini menggunakan faktor komponen utama dengan rotasi Varimax dan normalisasi Kaiser, untuk menguji hipotesis penelitian dilakukan melalui uji regresi. Hasil penelitian ini menunjukkan bahwa sikap dan norma subjektif memiliki pengaruh signifikan dalam menentukan partisipasi wakaf tunai pada konteks masyarakat muslim di Indonesia. Selain sikap dan norma subjektif, penulis juga menambahkan religiusitas pada penelitian ini, hasilnya menunjukkan bahwa religiusitas berpengaruh signifikan terhadap niat perilaku waqif untuk berpartisipasi pada wakaf tunai.
Keywords
Norma Subjektif, Sikap, Religiusitas, Wakaf Tunai
References
Ajzen , I. (1991), "The theory of planned behaviour", Organizational Behavior and Human Decision Processes, Vol.50 No.2, pp.179-211.
Al-Qur'an Surat Al-Nahl (16) ayat 71. Al-Qur'an dan Terjemahan. Cetakan ke 7: Al-Mizan Publishing House.
Amin, H., Ghazali, M.F. and Supinah, R. (2010), "Determinants of Qardhul Hassan financing acceptance among Malaysian bank customers: an empirical analysis", International Journal of Business and Society, Vol. 11 No. 1, pp. 1-16.
Amin, H. and Chong, R. (2011), "Is the theory of reasoned action valid for Ar-Rahnu? An Empirical investigation", Australian Journal of Basic and Applied Sciences, Vol. 5, No.10, pp. 716-726.
Antonio, M.S. (2002), Cash Waqf dan Anggaran Pendidikan Umat, Republika, Indonesia.
Bidin, Z., Md-Idris, K. and Mohd-Shamsudin, F. (2009), "Predicting compliance intention on zakah on employment income in Malaysia: an application of reasoned action theory". Jurnal Pengurusan, Vol.28, pp. 85-102.
Blackwell, R., DSouza, C., Taghian, M., Miniard, P., & Engel, J. (2006). Consumer behaviour: an Asia Pacific approach. Thomson.
Carabain, C. L. and Bekkers, R. (2011), "Explaining differences in philanthropic behavior between Christians, Muslims, and Hindus in the Netherlands", Review of Religious Research, Vol. 53 No.4, pp. 419–440.
Chatfield, C. and Collins, A.J. (1992), Introduction to Multivariate Analysis, Chapman & Hall, London.
Cizakca, M. (2013), "Ottoman Cash Waqfs Revisited: The Case of Bursa 1555-1823", Journal of Economic and Social History of the Orient, Vol. 38 No.3, pp. 313–354.
Fishbein, M. and Ajzen, I. (1975), Belief, Attitude, Intention and Behavior: An Introduction to Theory and Research, Addison-Wesley, Reading, MA.
Ferm, R. L. (1963). Religion in America. Journal of the American Academy of Religion, 31(2), pp. 167-168.
Gopi, M. and Ramayah, T. (2007), "Applicability of theory of planned behavior in predicting intention to trade online: some evidence from a developing country", International Journal of Emerging Markets, Vol.2 No.4, pp.348-360.
Hair, J. F., Black, W. C., Babin, B. J. and Anderson, R. E. (2010), Multivariate Data Analysis: A Global Perspective, Prentice-Hall, Upper Saddle River, NJ.
Khurshid, Ahmad. (1983). Pesan Islam, diterjemahkan oleh Achsin Muhammad, Bandung; Pustaka.
Koenig, H.G., McCullough, M. and Larson, D.B. (2000), Handbook of Religion and Health, Oxford University Press, New York, NY.
Lada, S., H.G. Tanakinjal and H. Amin. (2009). Predicting Intention to Choose Halal Products Using Theory of Reasoned Action. International Journal of Islamic and Middle Eastern Finance and Management, Vol. 2, No. 1, pp. 66-76.
McDaniel, S. W., and Burnett, J. J. (1990), "Consumer religiosity and retail store evaluative criteria", Journal of the Academy of Marketing Science, Vol. 18, pp. 101-112.
Media Indonesia. (2017). Potensi Wakaf Indonesia Rp100 Triliun per Tahun. http://www.mediaindonesia.com/read/detail/136892-potensi-wakaf-indonesia-rp100-triliun-per-tahun [diakses 4 April 2018].
Mokhlis, S. (2006), "The effect of religiosity on shopping orientation: an exploratory study in Malaysia", The Journal of AmericanAcademy of Business, Cambridge, Vol. 9 No. 1.
Morgan, P., & Lawton, C. (1996). Ethical Issues in Six Religious Tradition, Edinburgh.
Ong, F.S., and Moschis, G.P. (2006), "Religiosity and consumer behavior: a crosscultural study", International Conference on Business and Information, 12-14 July 2006, Singapore.
Osman, A. F., Htay, S. N. N., & Muhammad, M. O. (2012, April). Determinants of cash waqf giving in Malaysia: survey of selected works. In In: Workshop Antarbangsa Pembangunan Berteraskan Islam V (WAPI-5), 10 Apr 2012, Medan, Indonesia (pp. 186-243).
Ramayah, T., Roubah, K., Gopi, M. and Rangel G.J. (2009), "A decomposed theory of reasoned action to explain intention to use Internet stock trading among Malaysian investors", Computers in Human Behavior, Vol. 25 No.6, pp. 1222-1230.
Republik Indonesia. 2004. Undang-Undang No. 41 Tahun 2004 tentang Wakaf. Lembaran Negara RI Tahun 2004, No. 159. Sekretariat Negara. Jakarta.
Shih, Y.Y. and Fang, K. (2004), "The use of a decomposed theory of planned behaviour to study Internet banking in Taiwan", Internet Research, Vol.14 No.3, pp.213-223.
Tabachnick, B.G and Fidell, L.S. (1996), Using Multivariate Statistics, 3rded., Harper Collins Publisher, NY.
Taylor, S. and Todd, P.A. (1995), "Understanding information technology usage: a test of competing models", Information Systems Research, Vol. 6 No. 2, pp. 144-76.
UU Nomor 41 Tahun 2004 tentang Wakaf
DOI:
http://dx.doi.org/10.31332/lifalah.v4i2.1548
Copyright (c) 2020 Muhammad Faisal
This work is licensed under a
Creative Commons Attribution-ShareAlike 4.0 International License
.
Li Falah : Jurnal Studi Ekonomi dan Bisnis Islam, Indexed In
Accredited By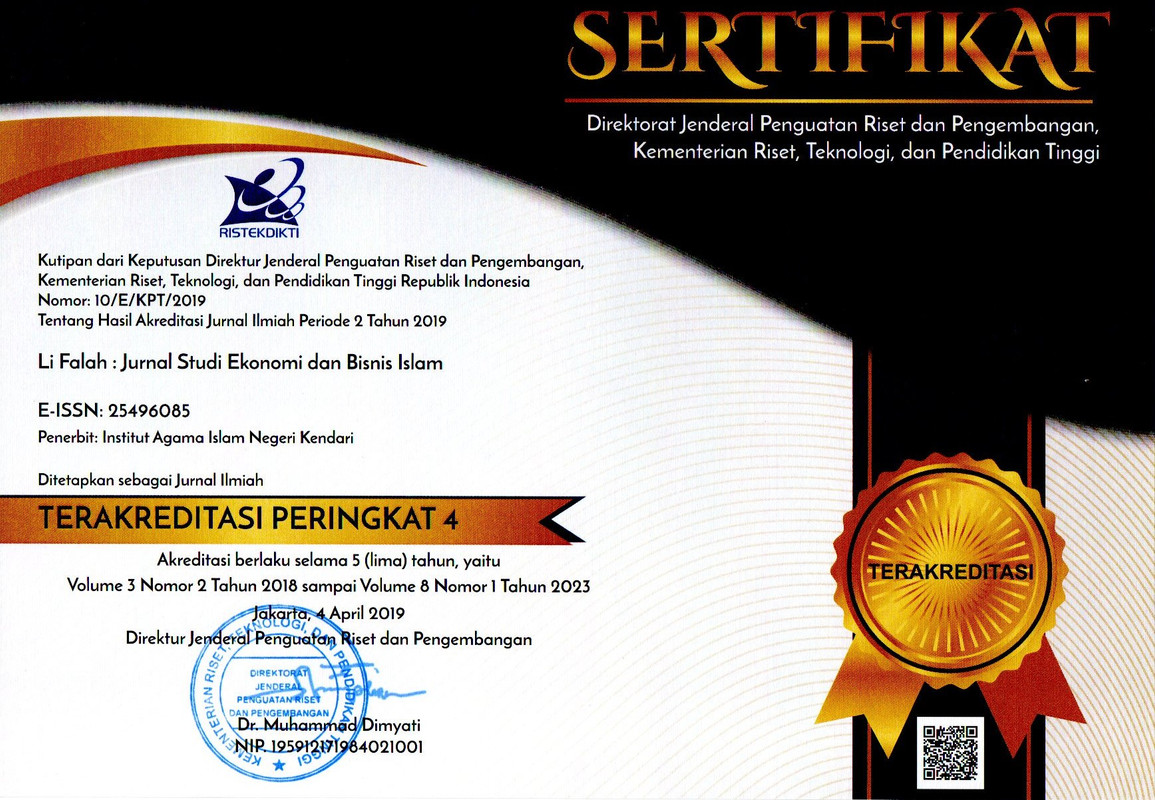 View My Stats
Organized by : Fakultas Ekonomi dan Bisnis Islam
Published by : Institut Agama Islam Negeri Kendari
Jl. Sultan Qaimuddin No. 17 Baruga Kota Kendari Provinsi Sulawesi Tenggara
phone. +62401-3193710
Fax. +62401-3193710
Email: lifalah.iainkdi@gmail.com