SPIRITUAL ENTREPRENEURSHIP BERBASIS AL-QUR'AN
Abstract
Abstract
Ian Marshall and Danah Zohar predicted theoretically that in the context of modern
business will appear spirituality without religion as the moral basis of the business which he
described as spiritual capital. But look at the phenomenon in Indonesia, sharia economic
development is rapidly increasing which in fact appears based on religious values, then the
theory Marshal and the Zohar indisputable.
Spiritual entrepreneurship based on the Koran in Indonesia is growing; the ideas,
thoughts, willingness (iradah), passion (ghirah) and determination ('azm) owned by an
individual or group (community) Muslims to strive in commerce (material or services) that
are based on the values of faith in God who taught the Koran.
Spirituality entrepreneurship models based al-Qur'an that life (living values) is very
varied, among the models discussed in this paper are (1) spirituality entrepreneurship
kaafah models, (2) spirituality entrepreneurship ukhuwah models, (3) spirituality
entrepreneurship tareqat models, (4) spirituality entrepreneurship models keep ablution,
(5) spirituality entrepreneurship models do not sell cigarettes, (6) the spirituality of
entrepreneurship model- publication that profit to charity.
Key Words : Spiritual, entrepreneurship, and models of bussines.
DOI:
http://dx.doi.org/10.31332/lifalah.v1i1.478
Copyright (c) 2017 Li Falah Jurnal Studi Ekonomi dan Bisnis Islam
Li Falah : Jurnal Studi Ekonomi dan Bisnis Islam, Indexed In
Accredited By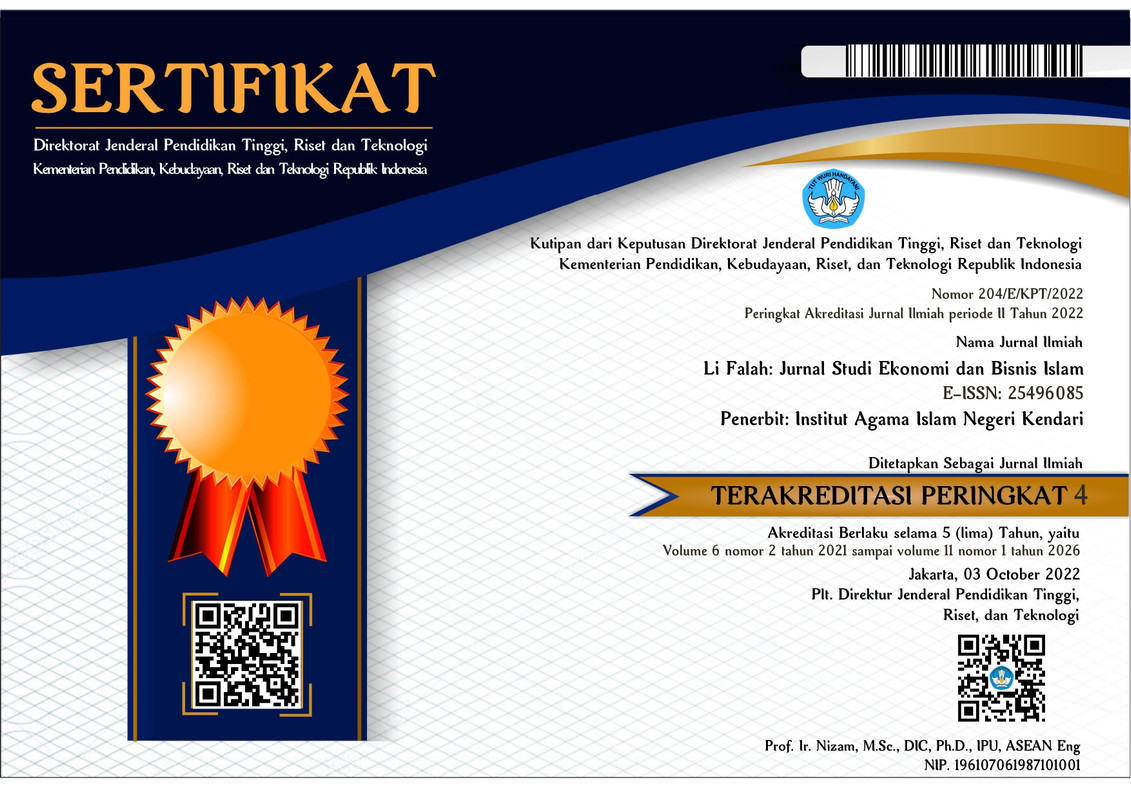 View My Stats
Organized by : Fakultas Ekonomi dan Bisnis Islam
Published by : Institut Agama Islam Negeri Kendari
Jl. Sultan Qaimuddin No. 17 Baruga Kota Kendari Provinsi Sulawesi Tenggara
phone. +62401-3193710
Fax. +62401-3193710
Email: [email protected]